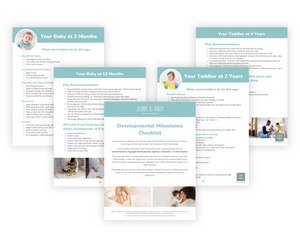 Developmental Milestones Checklist PDF
Jenny & Andy
A comprehensive developmental milestones checklist from ages 2 months up to 4 years old. This PDF includes:
milestones checklist for each age group

play recommendations for each age group

red flags to watch out for in each age group. 
Developmental milestones are important age-specific skills that most children can do at a certain age, and are used to help check how your child is developing in various developmental domains or categories.
This checklist is adapted from Caring for Your Baby and Young Child, 7th Edition: Birth to Age 5, Fifth Edition, edited by Steven Shelov and Tanya Remer Altmann © 1991, 1993, 1998, 2004, 2009 by the American Academy of Pediatrics
Please note: This checklist is not a substitute for a standardized developmental screening tool.