Introducing jenny & Andy apparel
Where Style Meets Sustainability
Discover Jenny & Andy's latest kids' apparel line, a fusion of style and sustainability. Crafted from eco-friendly materials like organic cotton and locally manufactured with love, our clothes are an extension of our commitment to real-world solutions for today's families. Embrace the concept of "Love Lines, Not Blood Lines" as we continue our legacy from kids' toys to trendy apparel, designed with your children and the planet in mind. Proudly Canadian-made, each piece reflects our dedication to beautiful, sustainable, and locally crafted fashion for the little ones you love most. Dress your kids in care, creativity, and Canadian warmth with Jenny & Andy.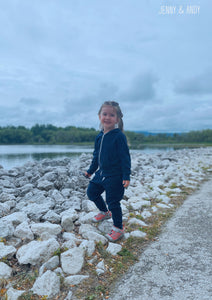 Organic Kids Toys & Accessories
At Jenny & Andy, we aim to produce creative solutions for real world use by today's family - combining innovative design with sustainably sourced materials. We are connected by love lines - not blood lines - as mom's friend, ally and trusted source for solutions that are both beautiful and sustainable. Producing a Canadian-made product that is developed with care from the first swatch to the last stitch.