As March break is upon us again, you may be preparing to go on a trip with your family. Whether you are travelling by car, boat, train or plane (or all of the above!) we wanted to share a few tested solutions to keep your child entertained while on-the-go. Every child is different, and the way every family copes and does things is also different. A strategy for one family might not be the right fit for someone else; but this is what's working right now for us, with our 3 years old daughter! For tips on travelling with a younger child, refer to our post Trains, Planes and Automobiles from last year.
Group Games
Keeping my daughter entertained is an ongoing goal! When my husband and I are able to play along, we find the game usually has a longer lifespan. Some group games that are currently working well for us are:
Alphabet Search: Each player takes a turn to pick one letter from the alphabet, then the goal is find that letter in the signs, license plates and other visuals that surround us. This game is great because it applies in almost all settings, a turn can last as long or as short a time as you like (if attention starts to wane, pick another letter!) and it's educational.
Rainbow Cars: The goal for this game is to search for cars in the order of the colors of the rainbow:  
Red

Orange

Yellow

Green

Blue

Purple
This game can be applied to luggage and bags as well if you're going through the airport.
Individual Activities
When it's time for my daughter to self entertain on-the-go, there are some activities that we routinely turn to as well. Toys and activities that she can use and reset on her own are key to prolonging independent play. Of course, imagination inducing, open ended toys play a big part in holding her attention as well.
 One of our favourite open ended toys for travel:
Carry Around Robot Town

by Lakeshore Learning allows for loads of imaginative play. My daughter gives names and roles to each of the robots, and takes them through a full day routine when she plays with this portable set.

Carry Around Animal Town

by Lakeshore Learning, same as the set above, just with animals instead of robots! 

Make your own travel toy kit, if you need some inspiration, check out ideas from

Busy Toddler
Best activity books and art options for travel:
Sticker art books: We received one of these books as a gift and have been hooked since. These are great for prolonged concentration, with no mess! By matching numbers or letters of the alphabet, kids create a beautiful picture using stickers (instead of markers or paint). For younger kids, I tend to use only alphabet sticker books, as it limits the number of stickers to 26, making it less complicated and attainable to complete without adult intervention.
Water based painting books are great for the creative kid on-the-go. Using a pen that you can load water into, the colour is imbedded into the pages itself. Some activity books in this style also feature puzzles and mazes.

Color Me books

by Wee Gallery - this book is actually designed as a bath toy, making it a great travel companion as it's multifaceted and designed to be tear-resistant.

Water Wow (

basic version

or

extended version

) by Melissa & Doug - bonus tip, even if I'm not packing this book to take with us, I'll take the pen! I use it as a tool for other water colouring activities.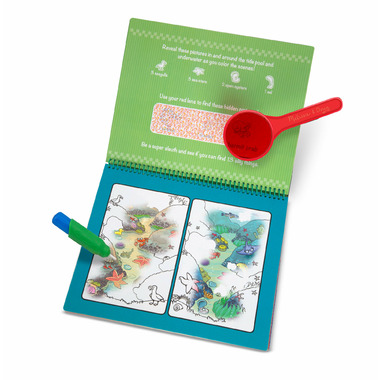 Stay connected
In order to stay connected to friends and family that your child might miss, we found a helpful work-around for destinations that have a time difference. Have your child make a video to send to family and friends who aren't travelling with you. And have them reply with pre-recorded videos that you can save to play for your child when they wake up or before bed. This mimics the cadence of regular video calls they might be used to, and missing.
What About You?
Have you travelled with a toddler? How was your experience and what did you find helpful? We'd love to know. Leave us a comment on this post below!
---